Does Social Media Make Sense for B2B?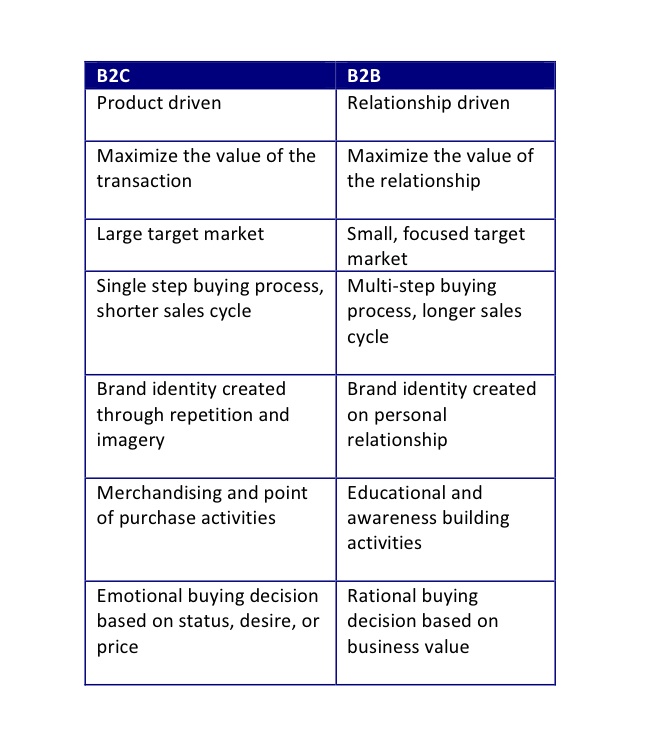 Great Comparison from Vista Consulting blog http://vista-consulting.com/marketing-b2b-vs-b2c/
Perhaps the biggest Social Media skeptics out there are those companies selling to other companies (B2B). Most of the hype (and spending) in Social Media to date has been focused on consumers with splashy, hip products getting the most attention. B2C marketing is significantly different than B2B (as seen in the chart on the left).  But when we look a bit closer at those unique characteristics of selling to businesses rather than individuals, Social Media can be a distinctly effective communications strategy.
·       Social Media is all about relationships. Successful B2B selling is all about building trust and long-term relationships. Social Media can facilitate transparency and easy, regular exchanges with prospects and clients.
·       Social Media provides more "touch points". Most B2B relationships are with several different people in the client organization over long periods of time. Social Media allows regular contact with many clients in an efficient, "non-pesky" manner.
·       Social Media helps establish Thought Leadership. In B2B sales you are always trying to demonstrate product/service leadership versus other offerings. Blogs and presentation postings (via SlideShare) allow you to constantly lend proof of your expertise through case studies, research findings or other valuable information.
Your Next Best Three Steps (for business-to-business marketing/sales):
Decide on your area of thought leadership. Where can you show unique advantage or leadership? Once you have established this defined area, participate in discussion forums (LinkedIn), follow other thought leaders (Twitter) and keep tuned to the conversations of competitors (Facebook, Twitter).

Define your Top 50 list. In B2B sales your target prospect list is a smaller, well-defined list of companies. List those firms to focus your efforts and your time.

Have focused conversations. Use your Top 50 list and follow their questions, conversations and activity. Your company will be differentiated as responsive and focused on client needs.
Click here for more tips on using Social Media for B2B from Mashable.
To learn more, join us live this Thursday October 28th at 1:00PM EST for a free SCORE sponsored webinar on Savvy Social Media.
As a business-to-business company, do you use Social Media? Why or why not? What has been the impact on your company? Share in the Comments section below.
Blogger's Note: One of the most common (and justifiable) arguments I hear from owners on ignoring Social Media is "my customers are not using it". Honestly, this new communications medium is so quickly evolving that I find the "rules" of market segmentation are changing all the time.  So for the next few weeks I would like to explore the use of Social Media by groups that many of us may have thought unlikely to be "friending" or "tweeting". I'd love to hear what you think.