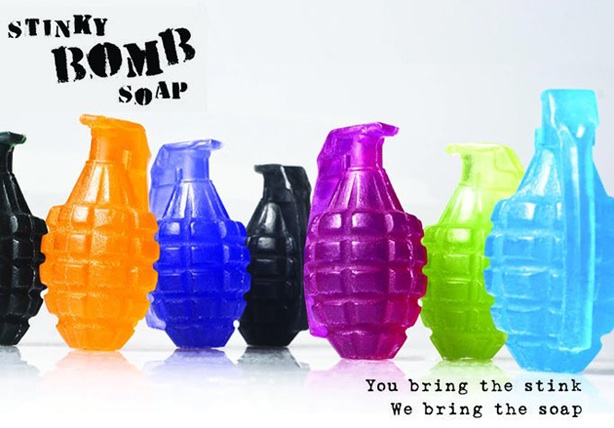 Megan is an artisan soap maker with a nose for appealing scents. Rob is a resin and acrylic mold master with a meticulous eye to detail. Both want to bring fun and humor to a cynical world.
So Rob started making molds from real-life items like World War II hand grenades, and Megan filled these molds with pure soap ingredients and scents. Stinky Bomb Soaps was launched.
With the tagline "You bring the stink. We bring the soap", Stinky Bomb Soaps' better customers have a love for the quirky and unusual. And in giving back. Each item is created and packaged by hand (even the packaging is hand-stamped). And a percentage of sales is donated to the Wounded Warrior project, and Project Zero Ohio (which provides funding for HIV/AIDS research).
Due to its customized, careful production Stinky Bomb Soaps also carefully selects its better customers.
The company sells wholesale to smaller boutiques specializing in unique gifts and personal care products. Stinky Bomb Soaps can therefore deliver unique items not found elsewhere – such as their line of Ohio shaped soaps. And they can get valuable feedback and suggestions from their close direct relationships with these outlets.
Another group of Stinky Bomb Soaps better customers is a little less obvious – brides-to-be. Megan works with couples that want to commemorate their special day with a unique gift basket. Together they choose the soap collection, and design a personalized stamp that is used to create the one-of-a-kind packaging. Not only do the wedding guests receive a personalized gift, but also the bride and groom get to keep the stamp as a keepsake of their special day.
Stinky Bomb Soaps customers are the best source of marketing for the company by consistently generating word-of-mouth referrals on their Facebook page. But the care and beauty of the products also indirectly cause the company's biggest challenge: the soaps are so meticulous that customers don't want to use them for clean up!
With the holidays coming up, Stinky Bomb Soaps could be a great customer and personal gift – check them out here.
And to learn the secret of Getting Better Customers, sign up for my webinar at the end of the month here at SCORE.