Upfront on the homepage of her website, Rebecca Twitchell describes her company, Half Full LLC, and her better customer:
half full believes that if you combine the right attitude, an effective process and an inspiring environment, you can create and accomplish any goals you have set out for yourself and / or your team.
Hall Full LLC offers leadership and organizational development services. From a demographic perspective Half Full's better customer is a management team of 10-15 – small enough so that all decision makers can sit at the table, but large enough to have the resources to act on resulting recommendations.
Just as important is the right attitude of the CEO. Hall Full's better customer must have the desire to evoke real change. They must also trust in Rebecca and her transformational process. As with last week's better customer story, the success of Half Full is best told through one of their better customers.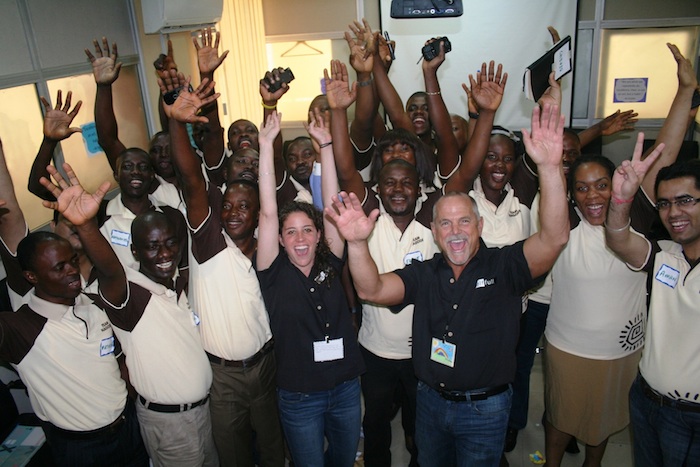 Nagode is a mid-size company in Nigeria selling B2B chemical services. The company had been growing steadily but the CEO could see that certain cultural blindspots and a lack of trust between management team members were thwarting growth. The CEO saw Rebecca Twitchell speak at a conference in Australia and immediately felt a connection to the Half-Full approach.
Nagode has met or exceeded its team goals each year. Rebecca attributes this better customer success to several factors:
Trust – The CEO had to trust Rebecca and her process and she in turn had to gain the trust of the other Nagode team members.
Commitment – Each and every team member had to commit to the planning process and resulting actions. Avoiding typical corporate lingo like "team building" and "leadership development", Half-Full labels management meetings forwards (rather than retreats).
Creativity –Each year Rebecca creates a new theme with many surprise activities.  Executives and team members are then forced to give up control and traditional patterns. Now in its third year, Half-Full forwards are never staid or boring and the team is always breaking new ground with growth ideas and ways to work better together.
Energy – Each forward is custom designed to create energy, break down communication barriers and move the team forward.
If you want to learn more about getting better customers, sign up for my webinar this Thursday, November 29th at 1:00pm ET. The webinar is free and all registrants receive a copy of my new ebook "The Secret of Getting Better Customers". If you want to make the webinar an action-packed workshop for your business, you can get the editable templates and tools by signing up on our homepage. Hope to "see" you Thursday!