"I have the best customers in the world so it's tough to pick favorites!" gushed Trish Moynihan, owner of the Big Frog franchise in Cumming, Georgia.
Big Frog began as a custom t-shirt shop in Tampa, Florida. But with new printing technology, the company takes the concept of custom to a new level. Because their oversized ink jet printer prints directly on a garment, customers can get single, one-of-a kind designs at a reasonable price.
Big Frog has quickly expanded to 41 stores throughout the country. Trish opened her store in Cumming Georgia at the lowest point of the recession, but has grown their shop in just three years to the most successful Big Frog franchise in the US.
What is her secret to success? A complete experience for their customers and a passion for customer service. Trish's Big Frog shop is housed in a beautiful, inviting retail space in suburban Atlanta. The two on-site designers work with walk-in customers to transfer their design idea into a wearable, one-of-a-kind expression. They even let customers run the printer so they can experience the actual production.
Trish is passionate about her business. As I talked to Trish about her specific better customer stories, it is clear that Big Frog creates much more than T-shirts.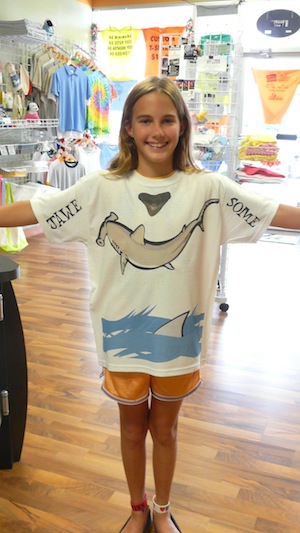 One young girl wanted to design her own "Jawsome" t-shirt – to wear in time for shark week.
Groups create t-shirts to create awareness and positive energy in the battle against horror from cancer to teen suicides.
But Trish's last story really told it all.
In the Fall of 2010 Josh, a local high school football player, collapsed on the field with a concussion. He was whisked to the local hospital in critical condition. Josh's best friend and fellow player came into the Cumming Big Frog store to create an expression of his caring. He designed a t-shirt with their high school logo on the front, a bible verse on one sleeve, Josh's tattoo design on the other sleeve and "praying for Josh" with his football number on the back. The next day the phone started ringing – with countless orders by Josh's teammates, school mates, neighbors, family – all who wanted to wear the shirt in solidarity at the next football game that Friday night.
The Big Frog team printed until 4am Friday morning. Grateful parents brought dinner and a six-pack for Trish and her partner. The stands were full that Friday night with an entire community cheering for Josh's recovery.
Josh recovered and was released from the hospital a few weeks later. En route home Josh insisted on stopping by Big Frog to personally thank Trish and her team for pulling together the prayers and wishes of Cumming.
Now that's a better customer story.
You can learn more about Big Frog, Trish and their many better customers on their website, Facebook or Pinterest
If you want to learn more about getting better customers, sign up for my webinar at the end of next week. This week enjoy the holiday and the many reasons we all have to be thankful.