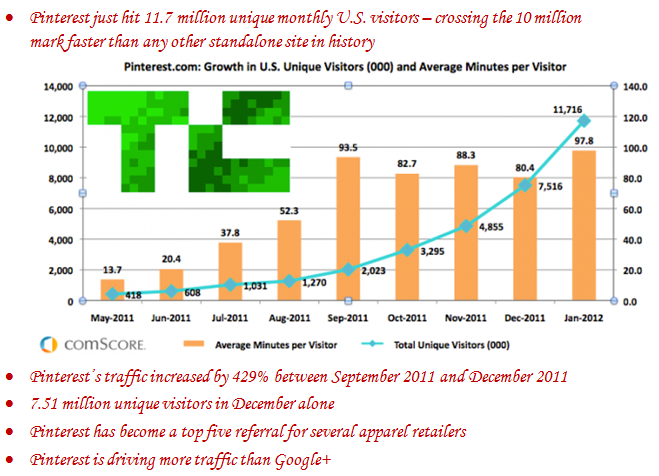 Just by glancing at the image above, you instantly learn that Pinterest, the new social media service, is growing fast in terms of popularity and playtime. A picture is worth a thousand words, and the visual nature of Pinterest is capturing the imagination of millions, with the fastest growth of any standalone site in history.
What is Pinterest? Think of a virtual bulletin board where you can grab and "pin" images, ideas… any little piece of information.  You can easily organize into categories and share with other fellow Pinterest users. The whole process is fun, creative and intrinsically addictive.
But what are the ways Pinterest could help you as a small business owner (without creating another time drain of useless social media distraction)?  Here are a few ideas:
Drive Traffic and New Leads:

Especially if your product/service is particularly visual and appeals to women (currently the dominant user group), Pinterest can act as an interactive and appealing storefront. Artists, photographers, fashion designers, etc. have already started pinning with a passion! Here are some great examples of Pinterest Brand pages for inspiration.

SEO Benefit:

Pinterest can help drive traffic to your blog posts or other visual elements of your website. This post from Search Engine Land gives tips on optimizing your pins to maximize your SEO benefit.

Infographics:

Better than a slide show, infographics let you get a powerful sales message across in a captivating, yet quick manner.  Here's a great infographic on Pinterest itself. This approach can be particularly powerful for business-to-business lead cultivation.

Market Research:

Want to capture great qualitative data like customer profiles? Perhaps you want to get some feedback on a new style of product, or packaging, or website design? Use Pinterest to poll your customers or selectively invite a small group as a virtual focus group.

Contests:

You can encourage participants to submit ideas, images and have everyone else "pin" to cast their vote. The whole process is fun and definitely engaging. Here's an example from Homes.com.
A final cautionary tale…
Okay.   I am officially swamped.  Every time I turn on my computer, I get a hundred more e-mail enquiries.  Last night I answered some of the e-mails, but today, I got several hundred more.
My site has gone viral; people say that I'm on Pinterest; people are blogging about me. But now I don't know how long people will have to wait before I get to their order.  The 4-6 week turnaround time has just gone out the window.
So, here's an idea.  Let's keep Child's Own Studio a secret for a while?   Don't share this website with your friends, pin me on Pinterest, post about me on facebook or blog about me.   Yes, shhhhhhh….until I catch up.
Sounds like a problem, we would all love to have. Happy pinning!
Do you use Pinterest?  Share in the Comments section below.