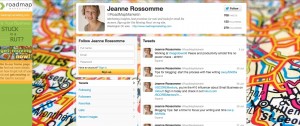 Lately I have been talking to seasoned sales professionals to understand their current techniques for getting new customers – and their use of social media as part of the sales process. Depending on the industry, social media may be THE communications channel (you get a response in tech businesses much faster from a tweet versus an email) or just emerging. But in all cases, sales reps see the value in being where their customers are.
Because social media is about the long-term cultivation of a relationship rather than a quick hit sales plug, many sales people ease social media into their sales plan. Here are the four stages I have seen for using social media for sales:
Stage 1: Establish credibility markers. Rest assured that any prospect or referral partner is going to check you out before your first meeting. So set up your social media profiles to be customer centric. What background establishes you as an expert? What information or tips show your value in helping solve problems? What photos, or personal associations paint you as a person that would be easy to work with?
Stage 2: Research prospects, customers and referral sources. Here you can look at the social media accounts of prospects for basic professional information but also for areas where you might find a personal connection. Do you have friends or colleagues in common? Did you live or go to school at the same place? Even referring to their recent outgoing blog posts or tweets shows that you have done your homework and are interested.
Stage 3: Stay top of mind with a light touch. Social media can be an effective and efficient way to manage hundreds of relationships. You can set up "feeds" from the social media accounts (using tools such as NutshellMail or Hootsuite) of past customers and referral partners to monitor what they are posting or what projects they are working on.  By occasionally responding, you stay top of mind and therefore more likely to be referred or contacted for a new project.
Stage 4: Actively seek out prospects. Here you actively listen for comments signaling dissatisfaction with a current vendor or a request for help for a current problem.  By effectively mining for questions, you can set yourself up to be the expert with the answer.
What stage are you at?  Did I miss any?