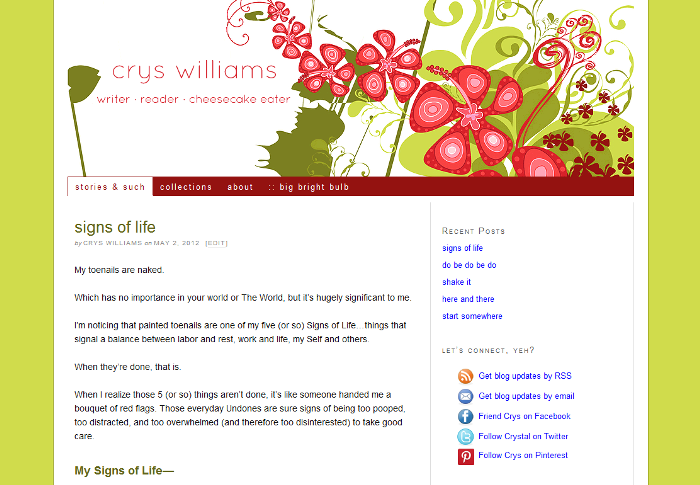 Is a website really essential? Yep. Customers need to find you and that necessitates having a digital place of business. Your website is your main cyber storefront, the hub where you direct all your other marketing messages. Websites are now essential.
Why can't I just piggyback off of other sites like Yelp or Google Business, etc.? Unfortunately this is the equivalent of renting office space with only a handshake contract. If any of these companies decides to change their policies, you have no real say – especially if it is a free service. You also signal to the marketplace that you are not a "real" business.
But isn't creating a website expensive and time consuming? Fortunately you do not need to spend a fortune (or weeks of your summer) to get an effective website.  Just recently I created a simple, essential website (for my upcoming book launch) for only $275 and a few hours of work with Crys Williams, owner of Big Bright Bulb. Crys has really found a way to walk anyone through the website creation process with a supportive hand and a big smile. It was quick and easy and had all the important elements required:
to be found by Google
to communicate essential marketing messages
to provide a way for customers to contact and interact, and
to easily update for new products, services and marketing programs
An essential, successful website only needs five pages:
Home: Here you want to clearly state your Value Proposition with as few words and as little gobbledygook as possible. (Click here for a great Value Proposition Generator). You also want a clear call to action (contact us, sign up for our mailing list, buy now) and, if available, some credibility indicators (media stories, current clients, impressive stats).
About: This is often the most important page of your website. Here are some tips on writing an effective bio.
Services or Products: Show just enough to describe the value of each service and get visitors to take the next step. Detailed specs and FAQs should be links to other documents so as to not clutter the page or your message.
Blog: This is an ever-fresh spot where you can write about new facts and events, and make the Google gods happy with fresh content. (Here are my tips for blogging as quickly and effectively as possible.) Make sure you include all your links to your social media pages (Facebook, Twitter, Pinterest and LinkedIn) to grab interested prospects and make it easy for them to spread the word.
Contact: A contact form so your site visitors can easily reach you but your email address is safe from spammers.
So, get started and get found with a basic website.
Any tips for essential, successful websites? Share in the Comments section below.