Tips to focus your efforts and save time
(NOTE:  This article is a summary of a recent presentation made to a group of law firm partners hosted by Optimal Networks (creator of this website).  Contact us if you are interested in a focused presentation for your group.)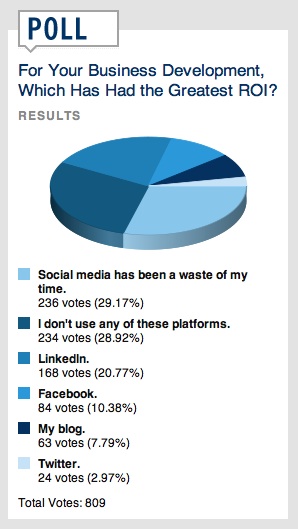 Even among Law firms who are understandably conservative marketers, social media usage is up — with 85% of law firms rating social media as an important growth tactic. But when it comes to dedicating time away from billable hours, social media content and training ranked at the bottom of the list.
You can seem this ambivalence in firm social media activity. Many law practices start a blog, and then rarely or inconsistently update the content. Linked in profiles are set up – and then never linked to Partner bios on the website. Little wonder that social media is practical viewed as not worth the effort.
Smart social media for law firms (and the lessons here apply to most professional services firms) depends on a top down approach.  Below are some common business development goals for law firms.  Under each goal, specific social media tactics are listed that will help get your there (with a little consistency and regularity):
Get Found. Do you have a specialization, by practice area, industry, or geography? If so, many prospective clients are likely to search for help on the web first. Decide on keywords that represent your firm and incorporate these keywords into your social media content and blog:
Register as a local business with Google places. http://www.google.com/places/
Create a blog editorial calendar with an entry every 2-4 weeks.
Assign authors and topics for blog articles over the next six months.
Use keywords and tags in blog posts.
Add share buttons to blog posts.
Protect Your Reputation. Every firm needs to know what is being stated publicly about their people, practice and clients. Setting up these easy monitoring tools will help you craft quick, effective responses:
Set up Google Alerts on your company name, your name and your competitors.
Grab Twitter, Facebook and YouTube accounts for your firm (You do not need to use them yet; but you want to ensure someone else does not tweet with your name.)
Fill out and monitor sites like Yelp.
Stay up-to-date. Partners and associates constantly need to stay up to date on key specialty areas and developments in the law. Social Media can help efficiently cull through the information:
Determine your list of thought leaders in your area.
Follow these thought leaders on Twitter.
Sign up for RSS feeds on key legal blogs www.abajournal.com/blawgs .
Build a Referral Network. 90+% of firms get new clients through referrals. Social Media can help you more efficiently meet and engage with this network:
Determine your Top 50 List of Key Referral Sources and Influencers.
Subscribe to their blogs, e-newsletters and comment there to support their activity.
Develop ongoing relationships through Twitter and LinkedIn.
Nurture Prospects. Social media (linked with email marketing outreach) can help you stay connected to prospects so they think of your firm when they are in need of your services:
Email newsletter sign up button on the firm website.
Incentive (white paper, article) to sign up.
Client Communications calendar to program regular email communications to stay in touch with prospects.
Leverage LinkedIn. 87% of law firms have LinkedIn accounts but the following tips can help leverage this tool to more efficiently connect with your network:
Update your profile (Bios, Schools attended, White papers, presentations, articles, blog posts).
Update your connections by importing contact lists.
Write and ask for recommendations.
Decide on Groups by practice area keywords, groups your customers/prospects are active in.
Set up notifications so you can regularly scan for client, prospect and referral updates.
Create a daily habit; use Updates to reach out and respond.
What social media tactics have been effective for your firm? Share in the Comments section below: