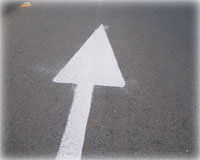 Some businesses are naturally cyclical, such as summer camps or ski shops. Others may have boom or bust times depending on the industry or the activity of key customers. The good thing about slow sales seasons is you have the time to focus on those "important but not urgent" tasks. Here are five activities that set up your business for future growth times:

Analyze past performance. Look over sales and proposals (wins and losses).  What went well? What flopped? What could have been improved? What products are selling well? Which need to be phased out? What marketing tactics produced results? (If you can't answer these questions, look at step 5.)
Set up simple, visual goals. Where do you want to be? Whittle down your vision to 3-5 SMART goals (specific, measurable, actionable, realistic, timely) and then post them in a place where you and your team can keep them in sight.
Set up lead generation engines. Set up an editorial calendar for the year with topics for blog posts/articles, e-newsletters and social media posts. Include in your calendar key promotions, industry events, etc. much of this content can be written in advance and scheduled.  You then know you will be capturing and nurturing leads, even in the busy months.
Cultivate key relationships. Set up one-to-one meetings (even via Skype) with key influencers, distributors, media, suppliers – key people that can really help grow your business.
Put in gauges and metrics. No business knows what lies ahead on the road; but successful businesses set up gauges so to steer their businesses away from potholes and toward opportunities. Key metrics for any business: monthly leads, conversion rates and profitability by sale.
What activities do you focus on during slow times? Share in the Comments section below.