Your Time is Your Most Valuable Asset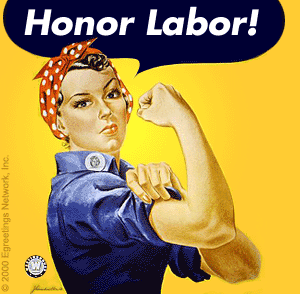 Labor Day is dedicated to the social and economic achievements of American workers. Small businesses now employ more than half of all American workers and represent over half of the nation's GDP.
So for you as entrepreneur, what does it mean to celebrate labor? Perhaps this holiday is the perfect time to take a step back and value your labor:
·      Owner or laborer? As a small business owner you naturally do many different jobs. But not all labor hours have the same value. Are you spending too much time doing $5 per hour administrative tasks? How can you pull away from these activities that take up your time, energy, focus and planning?
·      Labor of Love. You have unique skills, experience and passion. Spending more time on labor that is aligned with your talents will be more efficient – and more likely to drive success for your business.
·      Labor for your own business. Especially in service businesses it is easy to devote all your time to your clients.  Make sure you carve out important time to work for your company.
Your Next Best Three Steps℠:
1)      Assess where you focus your labor. Honestly track your time for the next few weeks and see where you are spending your labor hours.
2)      Look for other labor sources. What tasks can you delegate, outsource or automate? What tasks are distractions from the core of your business?
3)      Carve out 20% of your labor for sales and marketing related activities. SunTrust Bank recently polled hundreds of small business owners for best practices and struggles. A key finding was that owners of high growth companies on average spent at least 20% of their time on sales and marketing activities. Dedicate 2 hours per day or one day per week on labor that will grow your business.
How do you honor your labor? Share your thoughts in the comments section below.